Fish Saw: US premiere of the multimedia one-woman show.
"IDIOSYNCRATIC GENIUS" – THE SCOTSMAN
JAPAN/ARGENTINA/USA
A MULTIMEDIA JOURNEY INTO THE HEART OF THE TSUNAMI
CREATED BY SACHIE MIKAWA & GEORGE LEWIS
ANIMATION BY SANDRA LÍA IURCOVICH AND ANDREA TORTI
Through the eyes of a talking Fish, a magical encounter of two girls across time and oceans tells a story of an eccentric family and their giant house by the sea.
In 2011, Japan had its largest earthquake and subsequent tsunami triggered by the quakes. The tallest waves got up to 40 meters (130ft). It caused over 15,800 deaths and 2,500 people are still missing. The closest city to the epicenter was Sendai, Sachie's hometown. Her mother lived in a town by the sea just south of Sendai. When Sachie first got news of the tsunami, her first thought was she had lost her mother. In fact it was three days later Sachie learned her mother was alive.
Fish Saw is a story about Sachie's mother, who is The Little Girl With Glasses, and her family and their giant house by the sea. The show features original animation and musical score.
Opening Act (just announced!):
Mako and Munjuru
Traditional Okinawan Music performance in the Northwest/Seattle and Hawaii area.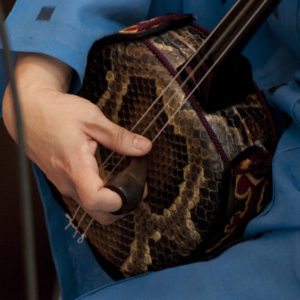 Theatre Off Jackson and the producer strive to be as accessible and inclusive as possible. Please contact us if you have any questions.
www.fishsaw.com
---
Date/Time: Saturday July 29 8PM (7.30 Door), Sunday July 30 2PM (1.30 Door)
Price Info: $18 Door, $16 Advanced
Notes: This event is recommended for patrons 9 years and up.